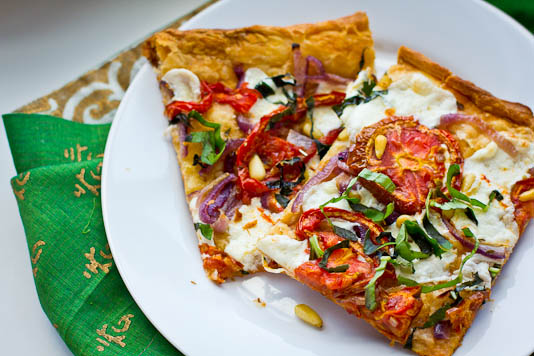 I remember being mildly overwhelmed this time last year. I was teaching myself how to design this blog, learning how to photograph food, studying how to edit said photographs, and making lists of recipes and stories that I wanted to write about. When Labor Day arrived I was ecstatic to have a holiday which meant more time to devote to the blog. Lunch time came, my stomach growled and all I wanted to do was work on the blog. I was craving something home-cooked and simple, yet decadent. And the last thing I wanted to do, ironically, was to cook.
As I rummaged through our fridge, surveyed our cupboards and impatiently tapped my fingers on the kitchen counter, I caught a glimpse of puff pastry sheets and immediately thought — puff pastry pizza! As I imagined myself — for some reason in slow motion — biting into the flaky, buttery, cheesy, crispy pizza, I knew it would be every bit as decadent as I wanted and would require hardly any labor. Perfect for the holiday.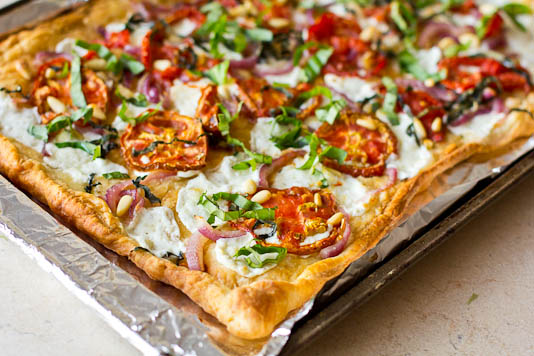 This year, I recreated the dish to make it a Perfect Morsel tradition and to celebrate how far I'm come with this blog. I used the store-bought puff pastry as the crust and topped it with sauteed onions and garlic, heirloom tomatoes, fresh mozzarella, pine nuts and fresh basil. I wanted something simple that would use the last of my summer tomatoes and whatever caught my eye. You should feel free to be as creative as you want with your toppings. Your choices are limitless!
Serve as an entree with a lemony salad or as appetizers for a party. And leftovers? Who doesn't like pizza for breakfast? Especially puff pastry pizza.
Wishing you a labor-free and scrumptious holiday!
Click here for photographs of each step and a printable list of ingredients & directions.
Ingredients
1 sheet puff pastry, defrosted
2 medium heirloom tomatoes, thinly sliced
?? medium red onion, thinly sliced
2 cloves garlic, peeled and chopped
1 cup fresh mozzarella ball or ciliegini
2 tbsp pine nuts
?? cup fresh basil
?? tsp dried oregano
3 tbsp olive oil
1 tbsp all purpose flour
1 tsp salt
?? tsp fresh ground black pepper
?? tsp red chili flakes, optional
Directions
1. Preheat the oven to 425??F.
2. Lightly flour kitchen counter or cutting board and roll out the sheet with a rolling pin roll until it is about a 12in by 14in rectangle. Make sure not to roll it out too thin since it may tear. If it does tear, simply pinch the hole to close it up and lightly roll with the pin. Luckily, puff pastry is forgiving.
3. Transfer sheet on to a baking sheet lined with aluminum foil. Fold the edges about 1/4in and pinch to create a crust.
4. Prick the pastry all over with a fork. This prevents it from puffing up too much, especially in the middle, while cooking.
5. Place sliced tomatoes on a separate baking dish lined with aluminum foil. Drizzle olive oil and sprinkle salt over the tomatoes. Roasting them concentrates their flavor and removes some of their juice, ensuring a non-soggy crust.
6. Place both the puff pastry and tomatoes in the oven for 10 mins. Keep an eye on the puff pastry as it may need to be popped in the middle again if it bubbles up too much.
7. Meanwhile, heat 1 tablespoon of olive oil in a medium size saute pan. Add sliced onions and saute for about 5 mins. Add Garlic and saute for another 5 mins. Take off the stove and set aside.
8. Take the puff pastry and tomatoes out of the oven and set aside to cool for a few minutes. The pastry should be a light golden brown and the tomatoes should be juicy and slightly shriveled.
9. Slice mozzarella into quarters, if using ciliegini. Alternatively, use either sliced fresh mozzarella or shredded mozzarella.
10. Pluck the basil leaves off the stem, lightly rinse in water and pat dry. Place the leaves on top of each other, creating a stack, and cut into thin strips across the leaves.
11. Top the pastry with cheese and then the rest of the toppings — onions, garlic, tomato and pine nuts. Sprinkle with salt, black pepper, oregano and 1 tablespoon of the julienned basil. Make sure to spread the toppings evenly across the pastry and about 1/2in from the edge.
12. Drizzle with 2 tablespoons of olive oil and place in the oven for another 10 mins or until the cheese has melted to a golden brown.
13. Remove from oven, sprinkle with the rest of the basil and the chili flakes (optional). Cut into single serving sizes and serve with a side salad. And remember, leftovers make great breakfast!
Preparation time: 5 minutes
Cooking time: 20 minutes
Number of servings: 4
from The Blog http://www.huffingtonpost.com/anjali-malhotra/puff-pastry-pizza_b_1848854.htm…